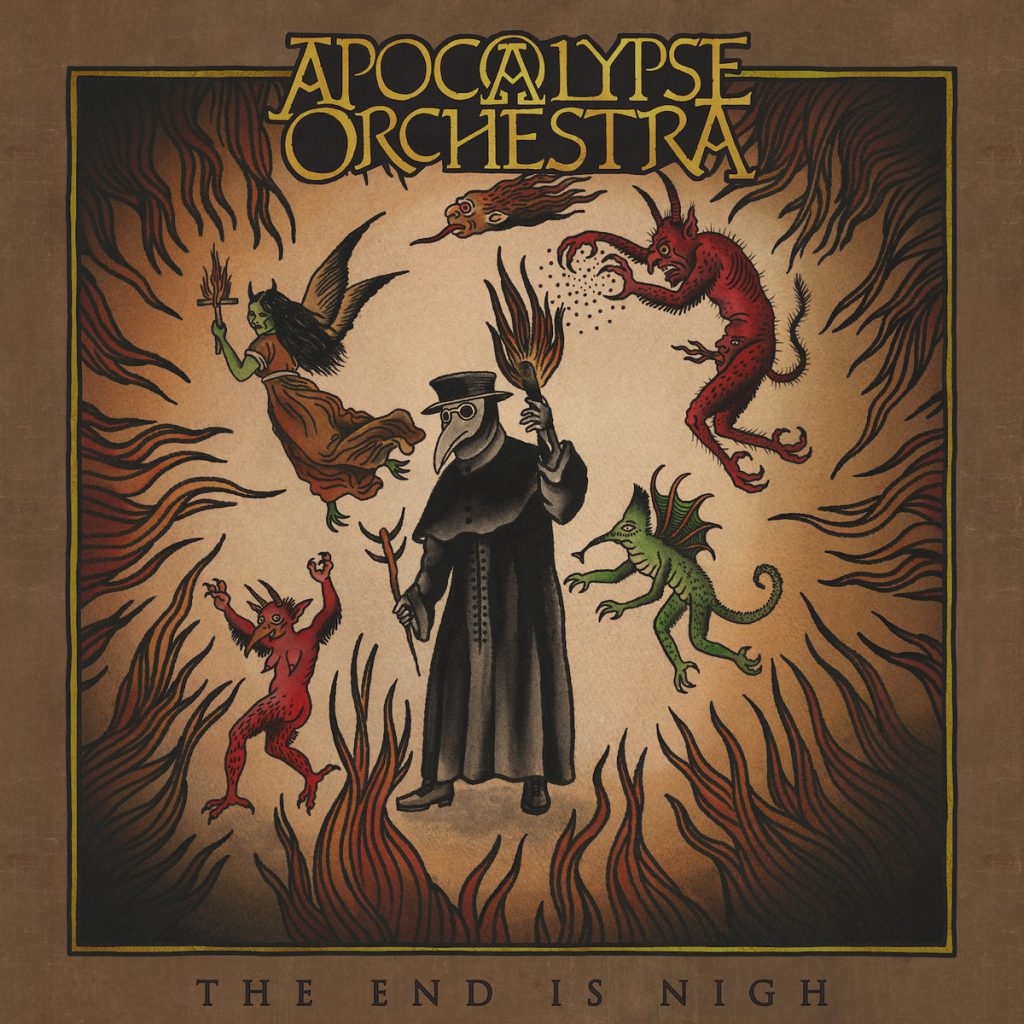 Tracklist:
1
The Garden of Earthly Delights
08:39
2
Pyre
06:33
3
Flagellants' Song
08:23
4
Exhale
07:33
5
Theatre of War
07:00
6
The Great Mortality
07:32
7
To Embark
02:50
8
Here Be Monsters
10:43
The End Is Nigh
Medium: Vinyl / CD / Digital
Release date: 2017-05-12
ALL SONGS AND LYRICS BY:
Apocalypse Orchestra
MIXED AND ENGINEERED BY:
Per Nilsson at Studio Kabyss
MASTERED BY:
Fredrik Groth at Studio Flåklypa
PRODUCED BY:
Apocalypse Orchestra
Copyright / Label
© & ℗ 2017 Despotz Records
All Rights Reserved
All tracks published by Despotz Music
www.despotz.com
Lyrics
The Garden of Earthly Delights
"Ipse dixit, et facta sunt: ipse mandavit, et creata sunt"
– Psalm 33
Theme: 'Je vivroie liement' by Guillame de Machaut (c.1300-1377)
Born from the void and still pristine
Tranquil, vast and cold
See the orb of blue and green
When he spake the light shone gold
Brought to life, (in) the image of god
In this holy place
Settled among the creatures odd
Eve, dear girl, avert thy gaze
Claims to love them all;
his world below
Minding not their fall;
a mirthful show
Merriments in the centerpiece
Weird things in galore
Is this the cradle of the disease
that man alone must answer for?
Joy and delight, forever ceased
Suffering's abloom
Eaten alive by the cauldron beast
Let the drones ring to the sound of doom


Pyre
"They bound her fast against the stake and laughed to see her fear…
Her red lips muttered secret words that no one dared to hear."
– 'Witch Burning' by Mary Elizabeth Counselman
Dark times ahead
Thorns deep in my side
Earth is turning red
Sacrifice for pride
Wrongfully accused
So many deaths in vain
Holy faith abused
Have you gone insane?
Conjuring the spell
Mercury and might
I will give you hell
I will take your light
Don't you look at me
With your judging eyes
Ere I face the flames
I will see you die
I will burn forever
Torturous endeavour
(But..)
Hell will not hold me
Vengeance you will see
Dark times have come
Death will become my bride
Flesh consumed by fire
Soon I'm by his side
Now there is but one thing
My retribution
I will break back through
To seek my absolution
Flagellants' Song
"Each had in his right hand a scourge with three tails. Each tail had a knot and through the middle of it there were sometimes sharp nails fixed. They marched naked in a file one behind the other and whipped themselves with these scourges on their naked and bleeding bodies."
-Sir Robert of Avesbury
Theme: 'Stella Splendens' from 'Llibre Vermell de Montserrat' (1399)


Pie Jesu Domine, dona eis requiem
Pie Jesu Domine, dona eis requiem
Pie Jesu Domine, dona eis requiem

On blistered feet
Still marching on
Hands held in prayer
All hope is gone
Lash on your back
with pure intent
Welts on your skin
The punishment

Raise your whip and flay your flesh
Join our congregation
True believers come with us
In corporeal damnation

To feel glory,
When sinew is stripped from bone
And to feel closer
To he who made this our life

Embracing the shame
Of sins that you've seen
It won't go away
You are so unclean
The pain and the guilt
It all seems so sad
The penance is just
Or deeds gone mad
So many lies to bestow upon yourself
Smiling through tears and screams
with wounds so fresh
Guilt ridden, all for nothing, wretched still
Mortification of the sinful flesh
Exhale
"Death is only the end if you assume the story is about you."
– 'Welcome to Night Vale' by Joseph Fink
Themes: 'A Virgen Santa Maria' and 'Rosas das rosas' from 'Cantigas de Santa Maria' (1221–1284)

No matter at birth
Born peasant or king
You will meet the end
In time they will sing
The young child of man
Immortally strong
Shining vividly
But will it be long?
The lifeglass of all
It can't be unturned
Everlasting prime
Will only be yearned
And not before long you
will start to decline
And age takes its toll
Now heed, (and) fall in line

Inhale
So deep
Breathe in
The life
You cling to desperately

Anguish building up inside you
Trying so hard to be strong
Darkness lifting – Eyes are clearer
Feeling lighter – Marching on

Inhale
So deep
Breathe in
Exhale
The life you hold so dear

Theatre of War
"War is delightful to those who have had no experience of it."
– Desiderius Erasmus Roterodamus (1466 – 1536)
Theme: 'Dum Pater Familias'

Welcome to the show of all shows
Front row seats for the murder of crows
Draw the curtain, start the play!
The cast is ready, join the fray
Dead men walking, trumpets blare
Death rides by on his bony mare
Triumph is certain in the mind's eye
Truth hides under limbs piled high

The machine
of war plows on
Neverending
it's to far gone

Audience gasping, horrified screams
Tears running down in endless streams
Humanity's lost, eclipsed by war
Apocalypse knocking on your front door
The Great Mortality
"The reaper does not listen to the harvest."
– Terry Pratchett, Reaper Man
Passing by closed doors
No sounds but crying
These are our chores
Accompanying the dying
Dressed in black we are
Pestilence our vanguard
Truly bizarre
Our sanity's beyond scarred

Rods and beaks, our only shield
Funeral pyres light our way
Death reaps this forsaken field
Then sows only dismay

Hear the devils cheers
Everyone's doomed in this trial
No need to waste your tears
You'll join them in a while
Heavenly decree
Holocaust divine
Anno Domini
MCCCXLIX
Here Be Monsters
"The man who has experienced shipwreck shudders even at a calm sea."
-Publius Ovidius Naso
Spoken lyrics: Excerpt from old english poem 'The Seafarer' originally from the 'Exeter Book' (circa 975).

Venturing into the unknown
(Here be monsters)
The waves crash and the cold wind roars
Widows-to-be they cry and moan
(Here be monsters)
Set sail for far and distant shores
Unknown shapes
Surfacing
From the abyss
Tentacles
Reaching out
Sea serpents hiss
All men's got their own holy grail
(Here be monsters)
Low born or noble, cursed or blessed
The reaper's chosen won't prevail
(Here be monsters)
Six hundred feet below they rest

Sinking
Slowly
No one
Will know their fate

Passing the point of no return
(Here be monsters)
Dreams crushed by the weight of the seas
Lanterns by night so lonely burn
(Here be monsters)
No way home for these absentees

Sinking
Slowly
No one
Will know their fate
Sleeping
Soundly
Anchors
Upon their graves

"Fettered by cold were my feet,
bound by frost in cold clasps,
where then cares seethed hot about my heart –
a hunger tears from within this sea-weary soul.

This the man does not know for whom on land
it turns out most favourably,
how I, wretched and sorrowful,
on the ice-cold sea dwelt for a winter
in the paths of exile, bereft of friendly kinsmen,
hung about with icicles; hail flew in showers.

There I heard nothing but the roaring sea,
the ice-cold wave.

The shadows of night darkened…"
* * *